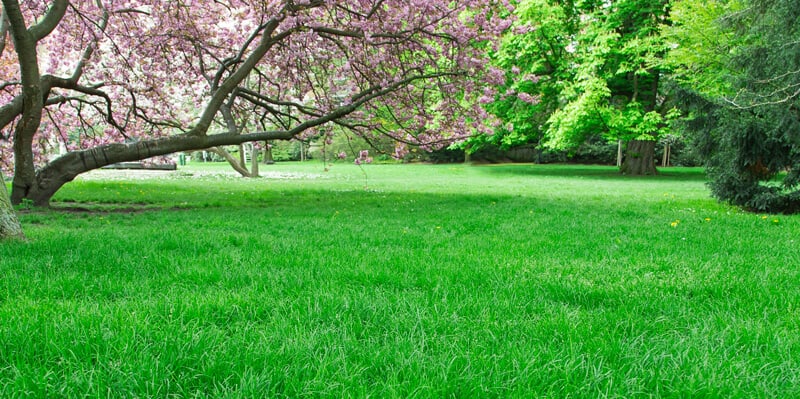 You wouldn't eat at McDonald's every day. If you did, you would gradually get sicker and fail to thrive. It's no different with your lawn. Liquid-based lawn fertilizers are like junk food for your grass. They contain only nitrogen and potassium – often in weak, diluted forms throughout the summer to prevent burning the turf. All the biological metabolites like calcium and iron are missing. These minerals are essential to the turfs ability to absorb nutrients and withstand heat stress. Without these, even nitrogen and potassium is "locked up" – unable to be absorbed by the turf grass.
Slow-release, long-term benefit. At Groundhog Turf Care, we always use a granular lawn fertilizer that is rich in nutrients. Because our fertilizers are slower release than liquid, only six applications are needed per year instead of seven. It also gives us the opportunity to create a custom lawn fertilizing program based on the needs of the turf throughout the growing season.
For example, springtime turf grass requires a good jump of nitrogen to come out of dormancy; early summer we add more potassium and iron to strengthen and prepare the grass for summer heat stress. In the fall, calcium and lime applications – along with high potassium and phosphorus – help to restore micronutrients to the soil and prepare the grass for winter.
Like a symphony. Your yard is a micro-climate that goes through various stages throughout the season. Timing is critical for effective control of turf insects; weed controls work at the seed stage and mature plant stage. It's the same with fertilizer. Because we can customize the fertilizer applications, our clients' lawns receive the maximum amount of benefit per visit. A healthy, thick lawn is going to choke out weed infestation and resist disease – meaning less chemical needs to be applied to control weeds. All the elements of our lawn care program work together in concert – like a symphony in your yard!